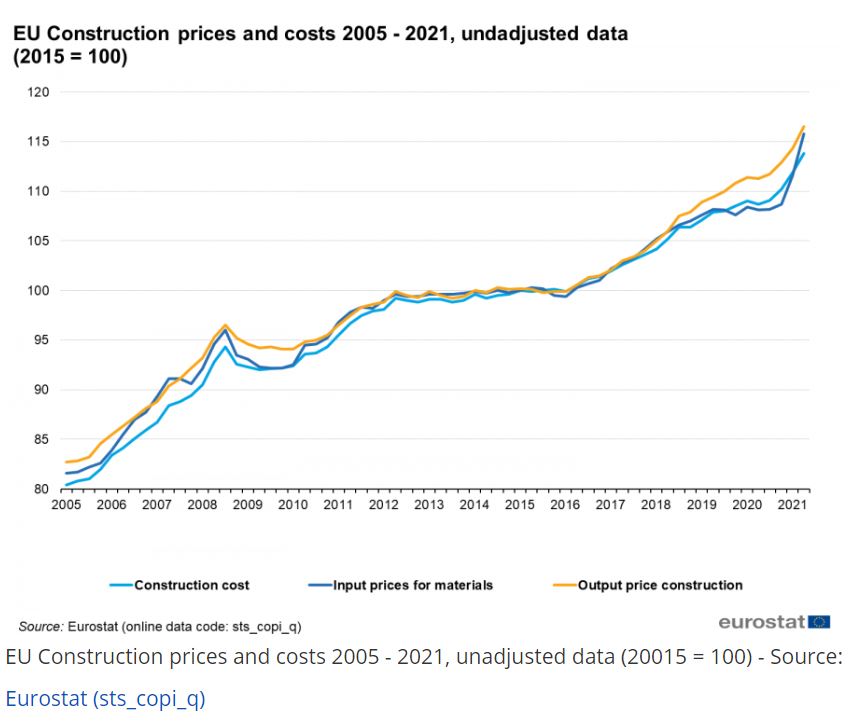 Ireland Well Positioned in a Tough Environment
Since our launch at the end of 2018, we've navigated Brexit disruption in 2019, Covid in 2020 / 2021 and 2022 has brought a war in Europe, rampant inflation, rising interest rates and an energy crisis. It's safe to say that the current environment is particularly challenging.
As interest rates continue to increase, Property Bridges reviews the latest market data and provides our own insight into what we're seeing in our sector going forward.
House Price Inflation is Cooling
HPI – While it's clear from the data that house price inflation is starting to slow, national house prices are still increasing. Buyers are now far more energy-conscious and new properties together with second-half properties with good BER ratings are now starting to command a premium. The table below shows that house price sales data from the central statistics office (CSO) and house price listing data from Myhome and Daft. There is a 3-month lag in the CSO and as such, data on list prices from Daft and Myhome may be able to give a better indication of recent sentiment.
Myhome reported that asking prices fell by 1.3% between July and September, bringing the annual rate of inflation back to 7.8%. Likewise daft are reporting an annual inflation rate of 7.7%, down from 9.2% recorded at the end of Q2.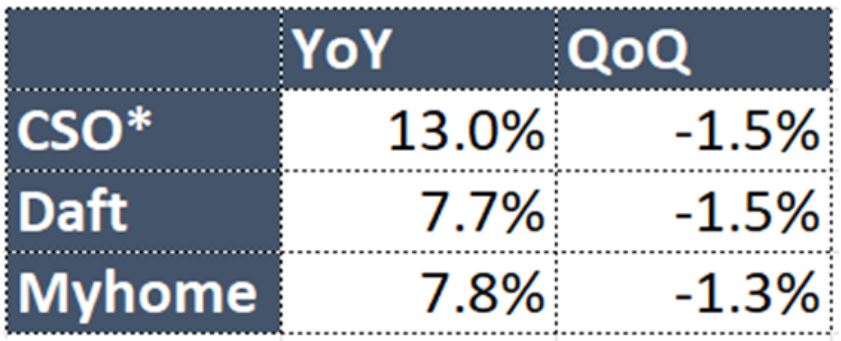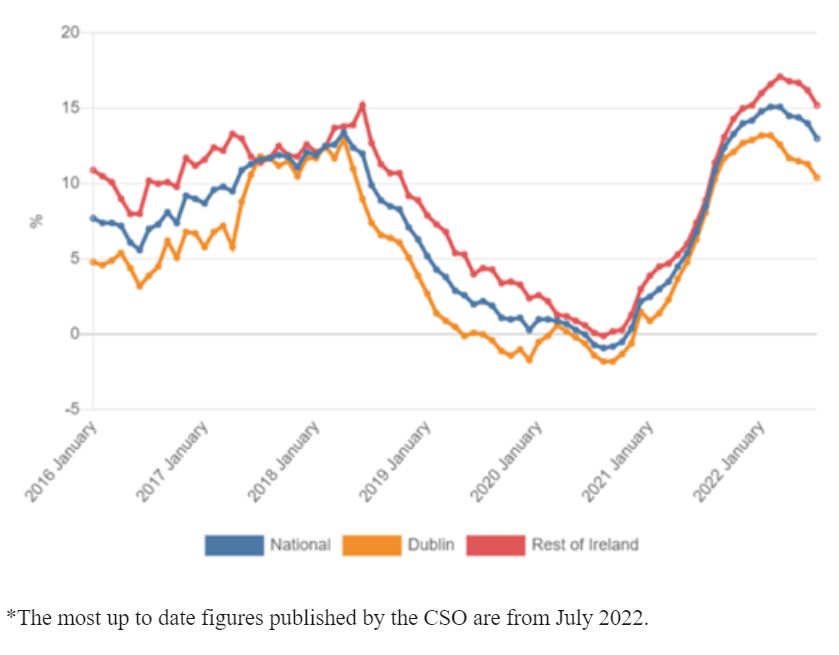 Where are prices going from Here
It seems like everyone has an opinion on where prices will go from here, and, it's safe to say the outlook has become more negative in recent months. Property Bridges is less concerned on the demand outlook of the Irish housing market and believe that the Irish property market is very well positioned in comparison with the US, UK and other European countries. The fundamental factors contributing to Ireland's relative position as follows;
Strong and robust labour market
Strict Macroprudential lending rules
Preferential demographics, a young, growing population
A chronic lack of supply
The percentage of households on variable mortgages has reduced dramatically in the last 5 years.
With affordability a significant issue in a rising interest rate environment – it should be noted that over the last number of years the Central Bank of Ireland (CBI) implemented strict lending rules for home buyers, in particular, the 3.5 times loan to income ratio is the lowest in Europe. Furthermore, the CBI has noted (14th September 2022) that mortgage rates in Ireland fell again in July to an average rate of 2.6%. This is due to the fact that 88% of mortgage advances are on a fixed rate basis where the Irish Banks are competing aggressively and have not (as of the date of writing, 3rd of October) passed on the most recent interest rate increase, in either their variable rate or fixed rate offerings. Interest rates will undoubtedly increase from here but the scale of those increases will be relatively less than those in the UK, the US and other Western European countries.
While interest rates are set to rise, these increases must be kept in perspective. If we look at a county like Waterford, there are currently only 8 no.3 bedroom houses available for rent on Daft.ie in the entire County with rents quoted ranging from €1,500 – €2,000 per month – mortgage repayments on a mortgage of €300,000 at current rates would be €1,088 or €1,240 per month at 3.5% interest making both availability and affordability compelling for purchasers of these 3 bed properties.
In a recent article in the Irish Times, Davy real estate analyst Donal MacCoille had the following to say;
Mr MacCoille said rising interest rates would lead to slower price growth but the seasonal fall in asking prices was not an indicator that prices were now set to fall persistently, as there was still plenty of pent-up demand. He expects house prices to grow by 6 per cent this year and 3 per cent in 2023.
He highlighted that 16 per cent of all mortgage approvals in the first six months of the year had not been drawn down, which he said indicates a cohort of "frustrated buyers" are still out in the market.
I would be in agreement with Donal's outlook on the market and would suggest house price inflation of between 0-3% in 2023.
Cost Inflation
The chart below from Eurostat shows cost inflation in the construction sector began in 2016 but has accelerated significantly since the start of 2021. The cost of cement for example has gone up by around 40% over the last 2 years. This is driven by the price of electricity and coal which are input prices in the heavy industrial process needed to produce cement. While these input prices remain high, it is likely that the price of cement will continue to rise into 2023. However, there is some good news, materials such as lumber and steel are down by 32% and 34% respectively YoY. While oil and gas prices have dropped significantly since the highs earlier in the year they are still at elevated levels. To see a significant reduction in inflation, we'd need to see further reductions in commodity prices.
If we get into a situation where cost inflation outstrips price increases then many projects will become unviable and much-needed homes will not be built. It is for this reason that I find it hard to comprehend the concrete levy which will add to the growing cost inflation and make homebuilding less viable. If the government is serious about supplying affordable homes it must reduce the input costs, starting with the 13.5% VAT levied on first-time buyers.
Construction Activity
Although completions are expected to hit 25,000 this year, construction activity has contracted in the last 3 months and housing starts have decelerated. In a recent press release Director & Head of Research at BNP Paribas Real Estate Ireland said;
After slowing in June, construction activity experienced a sharper contraction in July. This reflects several factors. Building costs continued to rise in July, laying down a challenge to the viability of marginally profitable projects.
"One positive note is that, while remaining elevated, input cost inflation has eased to its lowest level since April 2021, and is now well below last October's peak."
With the contraction of construction activity and stalling of some large PRS projects, the labour availability in our market of SME homebuilding has improved markedly over the last 3-6 months.
Supply
There were 7,654 new dwelling completions in Q2 2022 up 53.4% from 4,990 completions in Q2 2021. This is the most completions seen in any quarter since the series began in 2011. There was an 88.1% increase in apartments completed in Q2 2022 to 2,415 which is the highest number of completions on record. Of all completions in Dublin this quarter, 67.5% were apartments and 94.6% of all completions in Dublin city were apartments. While this achievement should be celebrated, the trend is unlikely to continue. The vast majority of these apartments would have been built to rent apartments, funded by large institutional investors. These projects were undertaken in an ultra-low interest rate environment and would have been highly leveraged with cheap debt. In the current environment, it's unclear whether these types of projects remain viable.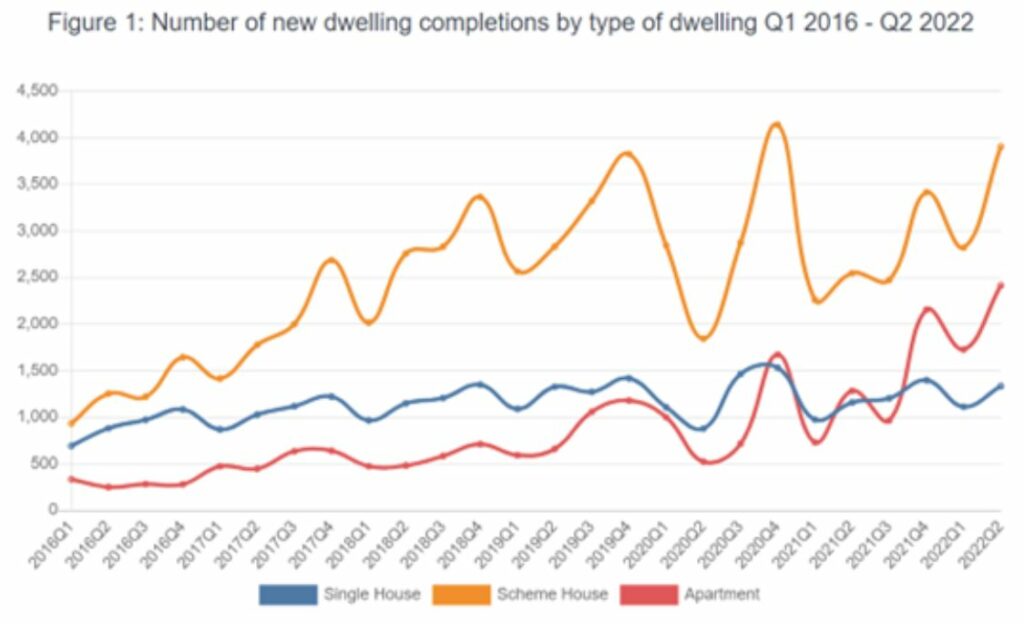 Another key constraint to the supply is the availability of development land. In a recent Savills study, they found that there has been a reduction in land available for development to the tune of 100,000 units, more than 10 years of supply. They put this down to the deficiencies in the national planning framework and planning policy. A lack of suitable land keeps land prices artificially high and forces developers to bid against each other for the limited supply available. With the exception of the landowner, this is a terrible situation for all stakeholders.